Before radio programs, before hitting television stations, before internet and satellite broadcasts of Ang Dating Daan or The Old Path; there has already been what we now know as "Bible Exposition."
It was 1969 when Bro. Eli arrived in Binangonan, Rizal to conduct an assembly (known in Filipino as pulong) where he stood in front of people as he discussed biblical facts. Even before, Bro. Eli has always been a very notable speaker. A frank and fearless young man that he is, Bro. Eli attracted people like magnet. His strong words along with his razor-sharp wit and impeccable knowledge of the Holy Scriptures garnered him much respect that even if he was only in his early twenties that time, elders would leave whatever they're doing to listen to him.
Religious processions of the Black Nazarene devotees, gatherings of political partisans, rallies and religious debates: Plaza Miranda has been a venue for countless demonstrations in Manila. (Photo Credit: http://pcdspo.gov.ph)
Pre-martial law, if anyone wanted to witness live debates,
Plaza Miranda in Quiapo, Manila
was the place to be - and it was also where ballsy individuals would stand for an audacious exchange of opposing arguments. Bro. Eli Soriano effortlessly became a crowd favorite in Plaza Miranda where people gathered to listen to him speak. Debates
—
back in the day, was a form of intellectual entertainment that old Manila once found enjoyment in.
Defenders of various beliefs flopped one by one as Bro. Eli Soriano proved them all wrong with only the Holy Bible as his reference. He crushed each and every illogical reckoning, biblical misinterpretations and impertinent arguments about God. With these assemblies and debates, Bro. Eli saw how people's curiosity about the gospel was stirred, resulting to more and more people asking him questions about faith.
Photo from Wikipedia
Time came when he even had to pawn one of his priced possessions: a typewriter - in order to fund more assemblies in different places until such a time when he reached Guagua, Pampanga. He soon realized that people in Guagua are in dire thirst for the truth. He learned how to speak kapampangan in two months and started intensifying his efforts in Guagua. Debates led to even more assemblies where people asked him questions on the spot.
What was once called pulong is now known as Bible Exposition. Each time Bro. Eli holds a Bible Exposition in any place, people are enlightened and are given the chance to know the truth found in the Holy Bible.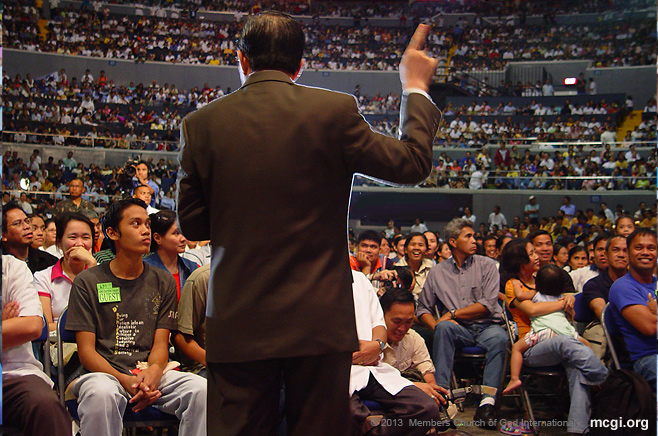 Bro. Eli preaching at the Araneta Colisem - Photo from MCGI.org
Expos went on until a chilly night of December 12, 2005 which happened to be the last live Bible Expo of Bro. Eli in the Philippines. While congregants of MCGI and visitors were at the Big Dome for a Worldwide Bible Expo in line with Ang Dating Daan program's 25th year anniversary that evening; armed men pretending to be members of the authorities barged their way into the ADD Convention Center in Apalit, Pampanga to instill terror among members who were left within the compound. While coercing and pointing guns at helpless members such as widows and children, they vandalized various properties as well.
Bro. Eliseo Soriano, the most slandered preacher of our time. (Photo from esoriano.wordpress.com)
Bro. Eli Soriano soon realized that the terrorism will not end until his enemies have him dead. That's when he decided, even with a heavy heart, to fly away from the Philippines to protect the welfare of his members. However, this very difficult decision that Bro. Eli had to make paved way for Bible Expositions held in different countries.

Today, Worldwide Bible Expositions are held on a monthly basis in different Ang Dating Daan Coordinating Centers here in the Philippines and in other parts of the globe.Through satellite broadcasting, people from different remote points in the world are able to ask Bro. Eli questions and be answered to their hearts' content.

All of the detractors' efforts to disparage Bro. Eliseo Soriano's persona prove futile as he continues to propagate the holy gospel around the globe, wherever God's will takes him.

For schedules of Worldwide Bible Expositions and for your inquiries about your nearest MCGI Locale or Coordinating Center, visit Ang Dating Daan's official site or MCGI.org for more details.